Nach der "Tunnel of Love Express Tour" und der "Human Rights Now! Tour" im Jahre 1988 genehmigte sich die E Street Band eine elfjährige Auszeit. Währenddessen veröffentlichte Bruce Springsteen etliche Alben wie "Lucky Town" (1992), "Human Touch" (1992) oder "The Ghost of Tom Joad" (1995). Darüber hinaus komponierte der "Boss" den oscarprämierten Titelsong "Streets of Philadelphia" zum AIDS-Drama "Philadelphia".
Ende 1998 reifte die Idee, die Musiker der E Street Band zusammenzutrommeln und eine World Tour in Angriff zu nehmen. Bruce Springsteen traf seine Künstlerkollegen im Februar und März 1999 zu ausgiebigen Rehearsals in Asbury Park, NJ.
Video: Bruce Springsteen in der Conan O'Brien Show, 1999:
Der Startschuss zur "Reunion Tour 1999 / 2000″ fiel am 10. April 1999 im "Palais St. Jordi" in Barcelona. Bis zum 1. Juli 2000 spielte die E Street Band weitere 132 Konzerte in Europa und Nordamerika. Selbstverständlich war Bruce Springsteen anlässlich der "Reunion Tour" auch in Deutschland zu Gast. Zwischen dem 13. April 1999 und dem 17. Juni 1999 trat er in Bremen, Offenbach, Leipzig, Berlin, Regensburg, Köln und München auf.
Video: Live at Donau-Arena in Regensburg:
Höhepunkt der Tour waren jedoch die 15 ausverkauften Shows in der "Continental Airlines Arena" in East Rutherford, NJ.
Video: Continental Airlines Arena, East Rutherford, NJ: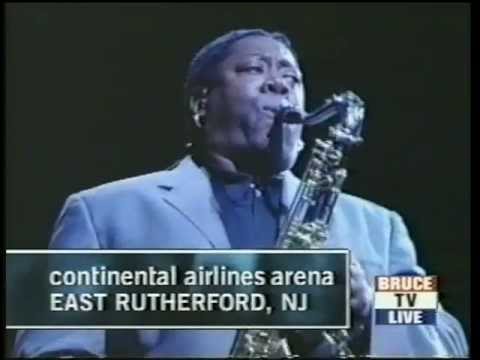 Der amerikanische Journalist Stan Goldstein hat auf seinem Blog spannende Geschichten, Fotos und Videos rund um die Auftritte in East Rutherford, NJ zusammengetragen.
Am 3. April 2001 wurde das Live Album "Bruce Springsteen: Live in New York City" veröffentlicht. Dabei handelt es sich um einen Konzertmitschnitt der Auftritte im New Yorker Madison Square Garden vom 29. Juni und 1. Juli 2000. Ausserdem wurde im gleichen Monat die DVD "Live in New York City" auf den Markt gebracht.
Mehr Infos: