20. Januar 2018 – "Springsteen On Broadway"
Bruce Springsteens siebzigster Auftritt am New Yorker Broadway.
Setlist:
Growin' Up
My Hometown
My Father's House
The Wish
Thunder Road
The Promised Land
Born in the USA
10th Avenue Freeze-Out
Tougher Than the Rest (mit Patti Scialfa)
Brilliant Disguise (mit Patti Scialfa)
Long Walk Home
The Rising
Dancing in the Dark
Land of Hope and Dreams
Born to Run
Thank you @springsteen for an unforgettable night of music and storytelling. I'm in awe ??? #SpringsteenOnBroadway pic.twitter.com/xO6XwOPFig

— B (@tripleBbbbb) 19. Januar 2018
Während Bruce Springsteen fünf Mal pro Woche am New Yorker Broadway auftritt, arbeitet E Street Band Gitarrist Nils Lofgren unter Hochdruck an einem neuen Album. Auf Twitter kündigte der 66jährige Musiker an, dass sein neues Studiowerk zum Jahresende erscheinen wird.
Hopefully later in the year. I'm currently recording an album. https://t.co/ruGFg6Gpd4

— Nils Lofgren (@nilslofgren) 18. Januar 2018
Ausserdem kündigte Nils Lofgren für Mai 2018 eine Tour durch Grossbritannien an.
14. Mai 2018 – G Live, Guildford
15. Mai 2018 – The Anvil, Basingstoke
16. Mai 2018 – Town Hall, Birmingham
17. Mai 2018 – Philharmonic Hall, Liverpool
19. Mai 2018 – Harrogate, Harrogate
20. Mai 2018 – Queen's Hall, Edinburgh
21. Mai 2018 – The Sage, Gateshead
22. Mai 2018 – Bridgewater Hall, Manchester
24. Mai 2018 – Corn Exchange, Cambridge
25. Mai 2018 – Assembly Hall, Turnbridge Wells
26. Mai 2018 – Forum, Malvern
28. Mai 2018 – Barbican, London
29. Mai 2018 – Theatre Royal, Norwich
30. Mai 2018 – Alban Arena, St. Albans
31. Mai 2018 – St. David's Hall, Cardiff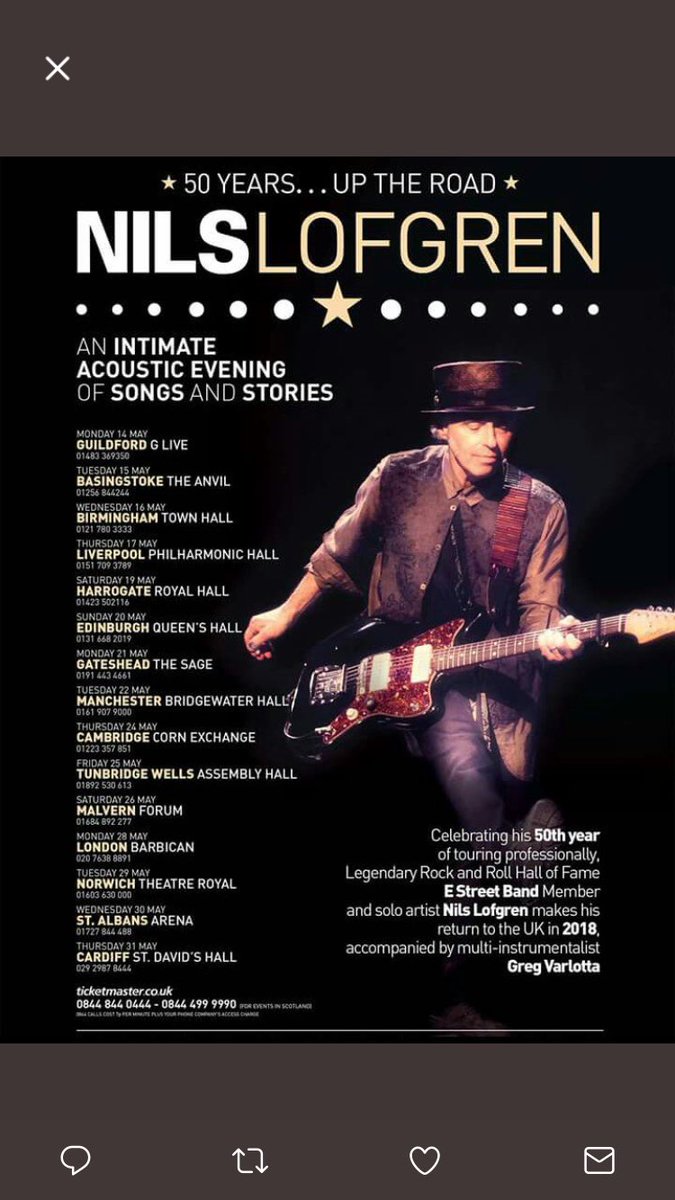 Nils Lofgren wurde am 21. Juni 1951 in Chicago, IL geboren. Mit 17 Jahren schloss er sich der Band von Neil Young an und wirkte auf dessen Album "After the Goldrush" mit.
Zeitgleich spielte er mit seiner eigenen Band "Grin" vier Longplayer ein, die von den Musikkritikern mit Lob überschüttet wurden. In Deutschland wurde er den Musikfans vor allem 1976 und 1979 durch seine Auftritte im WDR "Rockpalast" bekannt.
Nach einigen Plattenerfolgen in Europa und den USA, wurde er 1984 offizielles Mitglied von Bruce Springsteens E Street Band. Ferner arbeite er mit namhaften Künstlern wie Ringo Starr, Patti Scialfa und Neil Young zusammen.
Mehr Infos: